Plastic Snow
We're going to debut a new Xmas song called "Hot Sleigh" at our final Pehrspace residency show at the end of the month, but, briefly: it was created for this project: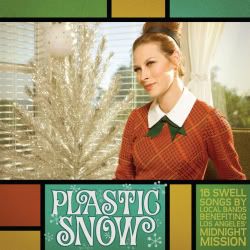 Plastic Snow
is a compilation cd created by Laura, who blogs as
Confessions Of A Would-Be Hipster
. It's made up of local bands (tons of them: Earlimart, Great Northern, Hectors, I Make This Sound, Fol Chen, Breakups, Sweet Hurt...etc. etc. etc.) playing Christmas songs. All profits from sales of the cd go to benefit Los Angeles' longest running homeless shelter, Midnight Mission. I am extremely proud that Laura chose to include us, and am also quite proud of Hot Sleigh (even if it was recorded and mixed, rather obviously, by us in our garage) and would be even more proud if you'd all go buy a copy of the cd, which is available for sale
here
. To be perfectly clear: neither Laura nor ourselves will receive a penny in profits from this release. Thanks once more to Laura for including us, I think Hot Sleigh is quite the HJ!
Note:
this is, as far as I know, the first Monolators song to be issued on disc by someone other than ourselves!